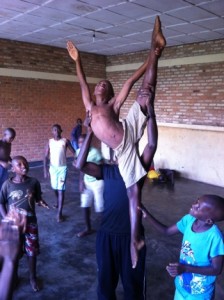 FidesCo Rwanda is a non-profit association that takes care of street children in Kigali by providing a full rehabilitation process, leading to the reunification of children with their families. RDDC is in partnership with this local organization since the end of 2011. RDDC programs (Dance and IT) are integrated among other rehabilitation programs. Kids at FidesCo Centre are attending dance class three days a week and IT class two days a week.  Once the rehabilitation process is completed, which is after just 4 to 6 months, kids are reintegrated into social communities.
Before I became informed that some kids are leaving soon, my team and I were surprised to find some of our top students crying in the corner of our dance space after class. We asked them why they were crying, and the kids gave us different reasons. Mainly, they were wondering when and how they could find such opportunities to learn again.
"I never thought that I could do a complete split in my whole life. It is time for me to go home now, but I wish I could stay much longer so that I could keep dancing and learning," said Samuel Birukundi holding my hand and crying.