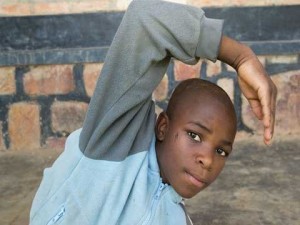 "Everyone can fall anytime but it is the courage to rise up which opens doors to new life" –  (Eric Mugiraneza, one of RDDC's former street children now enrolled at boarding school)
As I wrote a long time ago, the first day RDDC met Eric, he was so hopeless. Eric was always thinking that he was going to die soon, so for him, there was no reason to work hard. His mother died beside him. This is how Eric interpreted the feelings of his memory to me two years ago: "When my mother died, I was so young and so terrified, thinking that I was going to die the following day – just a few hours after her," said Eric.
Eric is now attending one of the best boarding school in Rwanda (Sonrise Boarding School). July 24th was the end of the second term for primary and secondary schools in the country.
Eric was so excited when I saw him on the last day of the term.
I asked, "Why are you so happy?"
Eric took the report card from his suitcase and gave it to me.
"What?!" I exclaimed. "Wow, Eric, congratulations!"
Eric said, "You see? I told you that this term I will progress!"
Eric moved from 51% to 61%. (Now, remember this is a child who was living on the streets and practically illiterate less than two years ago.) Eric once hated any kind of activities because he was so desperate and hopeless; now, he is happy about his progress.
I asked Eric how he can make such a dramatic change.
Eric responded, "During the vacation period, I sat down and I realized how far I had moved. I thought about the situations I have passed through and the different people I have met. I realized that I was not afraid anymore. A few days after the second term started, I saw most kids were happy to come back to school with a spirit of competition. They were eager to show how high they could perform. Then I heard an inner voice asking me, 'Why not you, Eric? Why not you?' I thought about all the other kids who want to be good in school and decided that I was the same as them – or could be the same as them. So, I worked harder."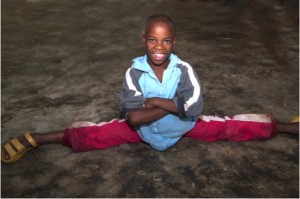 On the way to his grandfather's house where he will spend this short vacation period, I asked Eric if he has any message or advice that I can give to the other street kids who still think that there is no reason to work hard. Eric smiled and he said, "Sorry, but you know my history and you know me. So I think you can tell them something from me in your own words."
Surprised by his reaction I responded to Eric that I will share his story with the hope that, through it, some may be inspired and change. Eric finished my thought: "I realized that everyone can fall at any time, but it is the courage to rise up that opens doors to new life."
Eugene Dushime is the Country Director for RDDC Rwanda. He is a former contemporary dancer and assists with the RDDC program in Guinea as well.