Crisis Plagues Guinea
In 2011, Forbes ranked Guinea as one of the world's worst five economies with GDP per capita at $440 and the inflation rate at 17%. Kindia, the city in which MindLeaps is based, is located two hours outside of Conakry, the capital.
In 2014, Guinea suffered another setback with the outbreak of Ebola. As of February 2015, there were 2975 identified cases and 1944 deaths.* (Citation: World Health Organization, February 4, 2015). Investors have pulled out of the country and the economy is expected to contract in 2015.* (Citation: World Bank, January 20, 2015)
Improving Literacy & Nutrition In Kindia
In 2011, MindLeaps and Association Benka-Fissa officially launched a partnership to create dance and language/literacy training in Kindia. The program serves boys and girls between the ages of 10 and 19 years. These youth face poverty, lack of access to education and unstable family lives. Remarkably, the town of Kindia was unaffected by the 2014 Ebola outbreak, but unfortunately, the diversion of financial support to all Ebola-affected areas have left the struggling community in even more need than before.
The goal of the MindLeaps program is too keep the children safe, educated and fed by involving them in productive physical and mental activities targeted at youth employment. The program consists of three parts:
Dance: 4 hour classes in classical ballet, modern, hip hop, traditional Guinean dance and acrobatics.
English Language: Basic and Intermediate classes that focus on conversational English – verbal and written.
Nutrition: Rice meals served to the children to improve malnutrition rates.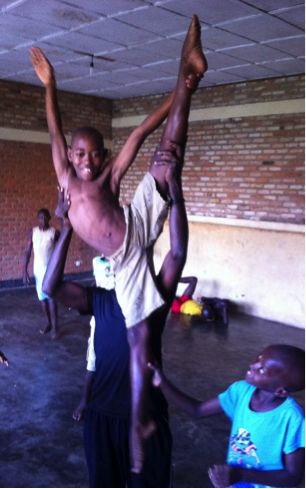 Building & Growing
The program's goal is to produce a small group of dance-acrobats who are sufficiently proficient to earn an income from their work as performers. The larger development goal is to improve the nutrition and educational levels of poor children in Kindia to help them survive and thrive.
Working alongside Ibrahima Mara (President) of the Association of Benka-Fissa and Ibrahim Bamba/BBL (Director, Centre d'art acrobatique "Keita Fodeba"), this joint program has office space at Maison des Jeunes and operates a makeshift school. The training center now bursts with creative physical and intellectual expression generated from the bodies and minds of busy young people. Every day the building fills with chalkboards, exercise books, benches and work tables as the children move from their dance and acrobatic classes to their academic lessons.
Top students from the program have become self-sufficient working performers with UniverSoul Circus and received scholarships to train in the USA and elsewhere.
We [the US Embassy delegation] were all incredibly
impressed with the English students' enthusiasm about learning English.
What you have done in Kindia is wonderful.
Kimberly Phelan Royston