Crisis Plagues Guinea
In 2011, Forbes ranked Guinea as one of the world's worst five economies with GDP per capita at $440 and the inflation rate at 17%.
In 2014, Guinea suffered another setback with the outbreak of Ebola. As of February 2015, there were 2975 identified cases and 1944 deaths.* (Citation: World Health Organization, February 4, 2015).
MindLeaps in Guinea: Building & Growing
New Permanent Center Opens in Conakry
In June 2017, MindLeaps opened its first permanent center in the capital city of Conakry. The new center has been established to provide dance and English classes in the same safe space for years to come. This year's program launched in Conakry with 22 students and is now up to 44 youth. The top teachers from MindLeaps' Kindia program, dance teacher Salifou Camara and English teacher Amadou Doumboya, joined a team of eight Guineans to lead the Conakry program.
Guinea Edugrade
In Fall 2016, MindLeaps partnered with local NGO Guinea Edugrade to provide a STEAM program for 44 youth. The group of students received daily IT and English classes, participated in MindLeaps dance program, and received nutritional support. MindLeaps Guinea's Country Director, Ansoumane Conde, also visited the families of the children weekly to update them on the activities and receive community feedback.
Improving Literacy & Nutrition In Kindia
In 2011, MindLeaps and Association Benka-Fissa officially launched a partnership to create dance and language/literacy training in Kindia. The program serves boys and girls between the ages of 10 and 19 years. These youth face poverty, lack of access to education and unstable family lives. Remarkably, the town of Kindia was unaffected by the 2014 Ebola outbreak, but unfortunately, the diversion of financial support to all Ebola-affected areas have left the struggling community in even more need than before.
The goal of the MindLeaps program is too keep the children safe, educated and fed by involving them in productive physical and mental activities targeted at youth employment. The program consists of three parts:
Dance: 4 hour classes in classical ballet, modern, hip hop, traditional Guinean dance and acrobatics.
English Language: Basic and Intermediate classes that focus on conversational English – verbal and written.
Nutrition: Rice meals served to the children to improve malnutrition rates.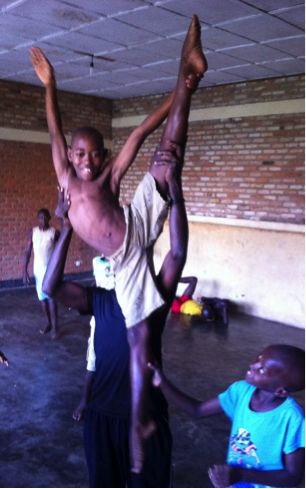 We [the US Embassy delegation] were all incredibly
impressed with the English students' enthusiasm about learning English.
What you have done in Kindia is wonderful.
Kimberly Phelan Royston