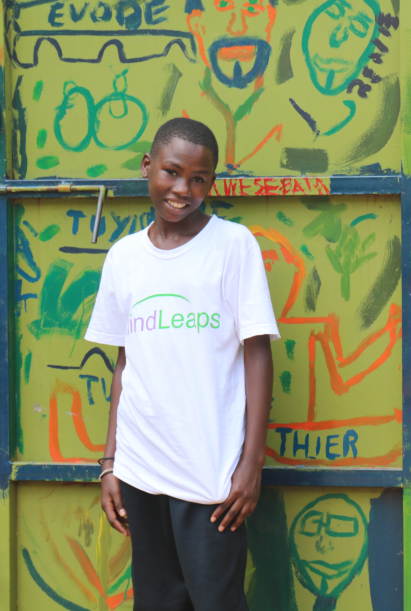 Volunteer with MindLeaps
Share your time and professional expertise with MindLeaps and make a great contribution towards helping us fulfill our mission.
MindLeaps welcomes volunteers with a wide range of backgrounds – from finance, to translation, to film editing – and much more.
Please contact us at info@mindleaps.org to learn more about projects and ways you can get involved remotely.
Building Partnerships with Corporations & Tech Companies
MindLeaps is looking to build relationships with tech/IT companies in one or more of the following ways:
1. Funding Relationships
MindLeaps runs an IT program for vulnerable children. The program helps children who have rarely (if ever) attended school and may not even be literate. Over time, their interest in manipulating the machines and accessing information through the Internet inspires a great will to learn about technology and multiple other areas – including English language.
We currently serve 120 children per year in our IT Program in Rwanda. We are looking for funding support to increase our program to serve 1,000 children per year by adding multiple classes and additional days to the program. The funding is needed to train and hire additional Rwandan staff to teach the classes and operate the facility (laptop equipped center).
We are also collecting laptops to add capacity to our IT classroom, and would like to source additional donated equipment – especially Android tablets.
2. Environmental Analyses and Job Trends
MindLeaps has a new facility in Nyamirambo, Kigali, and we are developing plans to train some of the top IT students to pursue careers in the growing tech industry in East Africa. In order to ensure we are providing the skills most needed and an education that would launch these youth into employment, we are looking to collect existing data about the tech industry and prospects for jobs/job growth.
We would like to know if you have any documents that shed insight on market trends in Rwanda that you might be willing to share. If they are already publicly available, perhaps you could direct us to them.
3. Teaching In Our IT Program For Vulnerable Children
MindLeaps is in the process of negotiating a MOU with the Government of Rwanda through the Ministry of Youth & ICT. As part of this exchange, we are looking to bring developers, designers and IT experts to Rwanda to carry out two roles: train our Rwandan IT teachers to a higher degree, and train engineers working for the Government of Rwanda to a higher level.
We are looking for professional volunteers who would be willing to travel to Rwanda for a minimum of two weeks to lead these training workshops. The exact content would be determined based on the volunteer's area of expertise and time commitment. MindLeaps would work to cover part of the volunteer's costs, but the ideal scenario would be to have corporate sponsorship of the professional volunteer.
4. Providing Internships For Beginner Programmers
In the next year, MindLeaps is looking to place a couple of our top IT students in "workplace" environments where they can use some of their skills to help the business (for example, typing documents or data entry) and also learn what would be required of them to secure a steady, basic job in the IT field. We would ask that the company pay for transportation/meal costs and have at least one staff person available to answer the student's questions throughout the internship.