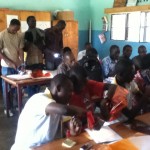 "It is a such shame that every time we need more than one lighting designer here in Rwanda, we have to cross the border looking for some expert outside while we could be training local ones."
– Wesley Ruzibiza, Amizero Dance Kompagnie
It is said that one of the most rewarding professions today can be that of a lighting designer working in the arts. RDDC thinks that it can be another way of helping vulnerable children improve their lives in the future.
One of the common things most street children have is their great talent and willingness to play with crafts and experiment by making new things. Based on this observation, RDDC, in partnership with FidesCo-Rwanda, implemented a new program to provide technical skills in lighting and theater craft to its students and other underserved youth living in Kigali.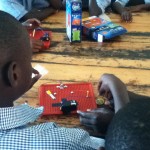 The training was given by Joshua Schulman, an expert in lighting design from the United States. Over two weeks, Josh was impressed to see how much these little children were interested in his profession. He was asked many questions about lighting and electricity. Kids wanted to know the background of lighting design, how to differentiate the light obtained through gas or a generator and the light obtained through electricity on the stage. The former street children were especially excited to play with lamps, batteries and cables.
"Those kids are amazing," said Josh, surprised by the results from the short test he gave to the kids at the end of the training. "I think I should come back for these kids; they need more training. I think those kids can go far if they keep continuing to learn," added Josh.
"This is a great opportunity offered to you; you have to take it carefully," said Wesley Ruzibiza, the famous choreographer from Amizero Dance Kompagnie who was invited by RDDC to share his experience with the participants at the end of the training. Wesley also added that those kids are the first generation in Rwanda to get such an opportunity.  "It is a such shame that every time we need more than one lighting designer here in Rwanda, we have to cross the border looking for some expert outside while we could be training local ones."
Rwanda has only one lighting designer: Judo Kanobana, the funder and the owner of Positive Production, which is the only professional company trying to satisfy the big market of sound and lighting design in Rwanda, a country known for its growth in special events and cultural development.
At the end of the training, the stakeholders (RDDC, Josh Schulman, FidesCo-Rwanda, Positive Production and Amizero Dance Kompagnie) agreed to increase efforts and keep partnering together to develop those hidden artistic talents in Rwandan youth.
Eugene Dushime is the Country Director for RDDC Rwanda.  He is a former contemporary dancer and assists with the RDDC program in Guinea as well.