Street children served by MindLeaps in Rwanda in 2014.
Street children in the capital city of Rwanda today.
Population living under $2/day in Rwanda.
Partnership In Rwanda
MindLeaps began work in Rwanda in 2010 under its former name, RDDC. Between 2011-13, MindLeaps partnered with FidesCo Rwanda to administer a permanent Dance & IT Program for Street Children in Kigali. In 2014, MindLeaps registered as an international NGO in Rwanda and expanded to operate its own facility in Nyamiramnbo, Kigali. Once a year, MindLeaps also works with 150 rural children in Rugerero, Gisenyi in a dance program followed by health workshops.
Dance & IT For Street Children in Kigali
Our permanent Rwandan staff works with 45-60 street children daily in order to provide a "catch up" program for street youth and out-of-school youth who have never had the chance to go to school and become literate. The program consists of:
Dance training to reform behavioral patterns and increase cognition
IT training to provide a valuable job skill
Boarding school sponsorship to fully re-integrate children back into civil society.
Building & Growing
In 2014-15, MindLeaps rolled out three additional programs to serve more street youth between the ages of 9 and 18 years. Five days a week:
English Language: to help children who will re-enter the schooling system
Sanitation Program: each child showers, washes his clothes, and brush his teeth daily at the Center
Meal Program: a daily meal of porridge to improve the learning capacity and deter the onset of life-threatening diseases due to hunger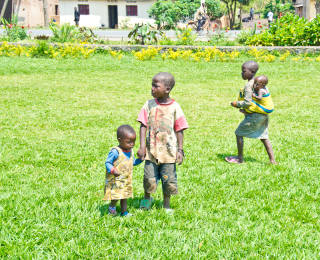 Teaching About Health in Rugerero, Gisenyi
Once a year, a team of MindLeaps teachers travels to Rugerero, a survivor village near the border of the Democratic Republic of the Congo. Working with 150-175 poor, rural boys and girls, the program has dance classes followed by health lessons to address community issues, such as water conservation and HIV+/AIDS.
At the conclusion of the program, the children perform a dance-theater piece with the lessons learned woven into dance, drama and song. In this way, the children become educators for the wider community.