Street children served by MindLeaps in Rwanda since 2014.
Street children in the capital city of Rwanda today.
Population living under $2/day in Rwanda.
Preparing Vulnerable Children for Education
In 2017, MindLeaps' Rwandan staff works with 65 children ages 9-18 daily in order to provide a "catch up" program for street youth and out-of-school youth who have never had the chance to go to school and become literate. The program consists of:
Dance training to reform behavioral patterns and increase cognition.
IT classes to introduce children to technology and the outside world.
Academic Acceleration Program led by teachers from the local White Dove Girls' School, which provides the students with English, Kinyarwanda, Math, Science, and Social Studies courses.
HIV testing & treatment, sexual health and reproductive classes, and hygiene/sanitation services.
A daily meal program to improve the learning capacity and deter the onset of life-threatening diseases
Boarding school sponsorship to fully re-integrate children back into civil society.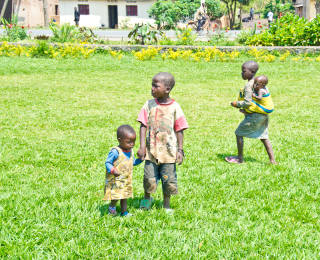 Teaching About Health in Rugerero, Gisenyi
Once a year, a team of MindLeaps teachers travels to Rugerero, a survivor village near the border of the Democratic Republic of the Congo. Working with 150-175 poor, rural boys and girls, the program has dance classes followed by health lessons to address community issues, such as water conservation and HIV+/AIDS. At the conclusion of the program, the children perform a dance-theater piece with the lessons learned woven into dance, drama and song. In this way, the children become educators for the wider community.
Beginnings and Partnership In Rwanda
MindLeaps began work in Rwanda in 2010 under its former name, RDDC. Between 2011-13, MindLeaps partnered with FidesCo Rwanda to administer a permanent Dance & IT Program for Street Children in Kigali. In 2014, MindLeaps registered as an international NGO in Rwanda and expanded to operate its own facility in Nyamiramnbo, Kigali.