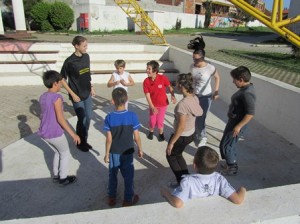 It was exactly seven months ago that I was getting on a plane leaving Mostar and Bosnia-Herzegovina (BiH) after launching a long-term program serving children.  Now I am back here to see exactly what has transpired in my absence and what the future might hold for me, these children and our program.
My not-for-profit, USA-based organization, Rebecca Davis Dance Company (RDDC), started to work in Mostar when we partnered with the local association, RINGO Mostar.  I was impressed with the skills of RINGO's President, Tanja Raic Tarcuki, and she became the Country Director for RDDC/BiH.  Together, we have built an ongoing dance program for underserved children living at Egipatsko Selo and International SOS.  These daily dance workshops focus on developing social skills (collaboration, team-work, memory capacity) of children while improving self-esteem and confidence.  The sessions are taught by a team of youth assistants that are trained by RDDC.
Given the extent of programming RDDC has carried out since my departure, I was anxious to return to Mostar.  This time, I found myself surprised by three things: the desire for further knowledge, the rhythm of life, and…the new McDonald's!
Desire for Knowledge.  My first day back teaching at Egipatsko Selo was filled with hugs as I greeted children that I had taught back in September 2011.  Since then, Sanja Elezovic, Lejla Maric and Matea Jevic have been teaching the classes as part of the RDDC program.  However, after a few minutes, all of the kids started demanding one thing: "we want to learn new dance steps."  They didn't want to show-off what they remembered, chat about life, or play around; they wanted to learn.  They were awaiting my return – not because they were so enthusiastic to see an old friend or teacher – but because they knew my presence meant access to information for them.  This brought a huge smile to my face because, after all, new dance steps are definitely something I can give these eager children.
I was particularly struck by the change I had seen in one of our children in the Egipatsko Selo program.  This is a young girl that I taught here before.  However, she was a difficult student then because she would insist that you look at her for each and every movement; if you did not, she would get frustrated and give up.  When I taught the same little girl this year, I saw how far her behavior had progressed.  Now, she rarely says anything in dance class; instead, she stands at the front of the class and is quiet as she follows each and every movement precisely.  In fact, she has become one of our class "experts" as she can demonstrate and name almost every dance movement we have taught.  I could clearly conclude that the continuity of our program had partially reformed her social behavior and improved her disposition after seven months.  This is exactly the purpose of the RDDC/RINGO program in Mostar.  This girl and some of her peers are ready to absorb more knowledge and continue to learn dance while improving their lives.
            Rhythm of Life.  I had lived in Brcko and in Mostar before, so the general lifestyle of BiH is not something new to me.  However, on this particular trip, I came directly from RDDC's program in Guinea, a country in West Africa.  The joke about West African life is funny because it's true: "Why are you sitting here underneath a tree not working?"  "Because all the other spots are taken."   That goes to show how slow the rhythm of life is in parts of Africa.  There are lots of hard working, industrious people – like those in the RDDC field offices – but there is also massive unemployment, which results in loitering.
Thus, when I arrived in Mostar, I was ready to spring back into action and fill my days with multi-tasking, running around doing all the tasks that needed to be finished and engage in deep conversation about the strategic direction of RDDC's work here.  Instead, I was surprised to detect only a slight modification in the pace of daily life.  Here, there is also the problem of unemployment, especially for those that are highly-educated or career-oriented.  Many are left adrift as they search for an outlet to utilize the skills and knowledge they have acquired through their life and education.  Mostar isn't New York, which is, I suppose, why people love it.  Yet, the thrill of accomplishing a great deal in a short period of time is a trait of the former and not the latter – for better or for worse.
McDonald's.  Seven months ago, I would have never expected to find McDonald's in Mostar.  I had seen the new fast-food shop heavily visited in Sarajevo, but it didn't occur to me that the Golden Arch would make its mark in Mostar.  What can I say?  Globalization is here to stay.
For me and my work, I am happy to see the mixing of cultures at any level – even the fast-food level.  Yet, the point of mixing cultures is simply to open one's mind to his own work, not to assimilate into something else or be under the impression that the other culture is right or wrong.  I have learned more about myself and what it means to be Canadian-American by working in Russia, the Balkans and Africa than I ever did living in North America.  The presence of a program like RDDC, a fast-food restaurant like McDonald's, or a cartoon about Obama makes us think about what it means to be here – wherever "here" is.  To that end, we might continue to desire further knowledge of others just so that we can learn about ourselves.
I wonder what surprises I will find when I get off the plane next time?