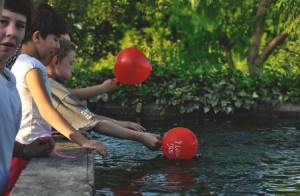 While I am walking through the streets of my town, I like to watch people and their mannerisms. What always suprises me – over and over again – is how rarely I am able to see smiling people. This emptiness I see in adults is what holds me tight to childhood. If that is the only period when we know we are truly smiling and sharing it with others, I want us to always stay there.
Sometimes, I am afraid of my happy and mischievous childish thoughts because adults tell us other stories and live different lives. I know that every town has its own rhythm. Each inhabitant of that town makes it unique and recognizable to them. It is also the same for Mostar – my town. Even though I cannot figure out how to characterize and define it yet, I am aware of some common words that describe it, like helplessness, dissatisfaction and transience. Maybe these are the factors which were able to erase smiles from the people's faces and maybe just someone is needed to show how to draw that smile again from us.  But, who has the skills to teach others to freely smile and ready us to endulge in life's adventures?
My adventure has already begun. Little reminders appear to me everyday. Those little reminders are smiling children's faces that welcome me everyday at Egipatsko Selo (RDDC's training location in Mostar).  The children are impatient to start our dance class each and everyday. This is the thing that preoccupies my thoughts recently – how much I have actually learned working with these children and what I want to achieve next in the future.
Suddenly my main goal is discovered – to be happy and share this happiness with others. Sometimes, I am occupied with my own obstacles and concerns of urban life, which takes me into a dark tunnel. But when I see the first little sincere smile awaiting me, that smile succeeds in immediately fighting the steady routine of Mostar's rhythm.
Once, I heard these words – march to the rhythm of your own drum. My drum is everyday driven by new experiences and adventures that become even more and more strong and safe while making making their own sound. It doesn't mean that the rhythm won't change – becoming sometimes louder, slower or quieter – but that will make the music written through our new experiences so much more beautiful. The question is – how many new rhythms are needed to make some change?  Happiness is true only when it is shared with others. That's why I like to go for my silent city walks and share my treasured smile with others. That is the moment when every child from Egipatsko Selo speaks through me and adds new changes in life's rhythm of our town, Mostar. Our music is not so loud, but we can feel it in our hearts and be ready to dance our dreams to it.
Sanja Elezovic is the lead youth dance instructor for RDDC's program in Mostar, Bosnia-Herzegovina.  She was born in Mostar and has a Bachelor's Degree in Social Work.