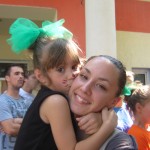 Sanja shares her experience teaching children in the ethnically-mixed area of Brcko District, located in the northern part of Bosnia-Herzegovina.
After three weeks in amazing Rwanda, I continued my adventure going into a Summer Dance Camp in Brčko, which is organized by Firefly, a UK-funded NGO.  I was sent there to meet with my Country Director Tanja R.Tarčuki and Assistant Matea Jevrić from RDDC and RINGO to lead a dance camp for one week.  The week would conclude with a performance to show what we succeeded to accomplish with these kids and youth.
We had prepared a choreographic piece and a teaching process for the dance classes before I went to Africa. We were prepared and excited to spend our time with these kids and youth sharing our knowledge with them. At first, I knew I would need some time to adjust to this new environment and working schedule.  In Africa, we had many hours of dance classes each day and my body was used to that intensity of work.
A smile appeared on my face with the first sight of Tanja and Matea coming in my direction at the bus station. I couldn't believe that I had arrived. I had so much to tell them, to describe and share my new experience and the knowledge that I had gathered each day while working with new enthusiasm and curiosity in Africa.
But now it was time for me to concentrate on new tasks and challenges – those that would become our Brčko book of memories. Lots of different questions kept occupying my mind: like how many kids are we going to have, are they going to be able to learn the choreography, will they like it, and will we succeed to prepare them for a performance.
I tried to keep those worries away from me and stay focused in order to achieve our goals. I met so many new people, locals as well as international volunteers from different countries, but as always, the most memorable part was the kids and youth with whom we spent our days.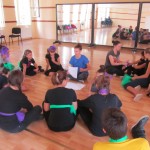 We had two groups each day (youth and kids), but for the performance, we decided to keep them dancing together to make our message even stronger. Through our choreography and talking to these amazing youth and kids who are really trying to do something creative and new in their town, we realized how important it is to transfer this message to the audience: "It's not about what you've done; it's about what you are doing now. It's all about where you are going – no matter where you've been. Let's go!"
Our dancers did a great job. They were really interested and focused in their training to learn as much as they could. It's always amazed me how much talent there is in kids and youth, but also how important it is to give them space and knowledge for developing their skills.
Throughout our days in Brčko, I was really proud seeing all these people included in the Firefly summer camp with different activities.  I could see all these wonderful and educational things, but I felt like something was missing and I couldn't figure out what.  But I got my answer on the last day, the day of the performance. It's difficult to describe what mixed feelings I felt while looking at all the performances the kids had prepared. I can't remember when was the last time that I felt proud like that – not just of our dancers, but of all the participants.  They learned so many new things: playing drums, dancing, English, French, and other creative things. But at the same time, I felt so lonely and hurt about what a small number of people from Brčko came to watch the final event. I was thinking about how amazing this event is and that there should be television to record all of it – to share it with people in their homes in all of Bosnia-Herzegovina (BiH).  With these thoughts, I realized that "the missing thing" is a question: why can't we be proud of our kids, kids from BiH? Why are people from different countries needed to find those talented kids? When are we going to be aware of the wealth that we have here?  And give voice to these positive things so worthy of sharing?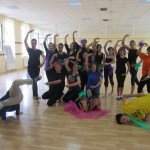 Sanja Elezovic is the lead youth dance instructor for RDDC's program in Mostar, Bosnia-Herzegovina.  She was born in Mostar and has a Bachelor's Degree in Social Work.