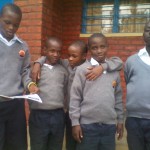 For the millions of children worldwide who live on the street, education is the most effective method of reintegration into society. In its partnership with the local organization called FidesCo, RDDC is contributing to improving the lives of street children in Rwanda through dance and IT programs by giving them an opportunity to get well educated.
On May 4th, RDDC brought the newest sponsored child to Sonrise Boarding School in Musanze, Rwanda. Zidane Ndatimana is a talented boy and was attending RDDC's programs since their establishment in Kigali in 2011. "I have no fear. I know that once I get familiarized with the school, I will succeed," said Zidane, "the newcomer", as his classmates called him.
When you visit these boys at school, you can realize how much they have changed compared to the first day RDDC met them at FidesCo. There is no difference between them and the other kids; they are playing, smiling and having fun with their colleagues. All five kids are integrated into the school.
Pierre was the first kid to be selected by RDDC to attend Sonrise Boarding School. "The first days here were difficult. I was impressed with the fact that all the kids are speaking English. I never thought that I would be able to compete with those kids who seem to speak English in their families while I am the only person in my family who knows the existence of that foreign language," said Pierre laughing. Pierre is succeeding at school, and he is also passionate about acrobatics. Every time when I meet this kid, he has a wound or some injury. I thought that maybe he is fighting with other kids, but when I asked his colleagues, they told me that he never fights. "It is because Pierre keeps doing some strange sport during his break time and even in the dormitory," said the nurse of the school, unknowingly referring to acrobatics.
Jado, another kid supported by RDDC, has been selected to be a part of the football team of the school. He is in P3 (third year of primary school), his results are good and he keeps improving. Last term, he got an average of 62% in the class. "I am now a goal keeper. You can't imagine how happy I am," said Jado while we were sitting in the garden of the school talking about how they are progressing in their studies. "I am now sleeping in the VIP dormitory with kids from P5 and P6 because of my discipline," added Jado with a bid smile and showing how proud he was of himself.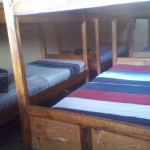 All five kids are looking for success in their studies and in life as well. They are committed and motivated to compete with their colleagues. "I know that soon I will be able to speak English. English is my big challenge. Once I get it, I will succeed," said Patrick, the silent and calm boy also now sponsored by RDDC at Sonrise.
RDDC is counting many talented kids who still need the same chance and opportunity. We are looking for kids who can prove that they can do better than being on the street, but our limited resources will not allow us to bring all of them to school. Some left the Center and went back onto the street while others are still living at the Centre, waiting for me and you to do something. Let us join hands and help them to be the best they can be.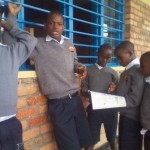 Eugene Dushime is the Country Director for RDDC Rwanda. He is a former contemporary dancer and assists with the RDDC program in Guinea as well.