"We are ashamed to see that those little kids, five years younger than us, are more advanced in IT and Dance while we could be their teachers in both fields. We want to get the same opportunity."
– Jean D'Amour Biziyaremye
Three older students, who were among the youth we trained in 2011 when we started our program at FidesCo, came to see me just two weeks ago while I was assisting in the IT program. They were outside the IT class, waiting for me. There were three boys, all of the same age of 18 years: Raphael Bonane, Xavier Nshimiyimana and Jean D'amour Biziyaremye.
We sat down and we had a conversation for about 10 minutes. I asked them why they want to see me. Raphael, one of the kids, started, "We would like to dance in these two weeks before we go back to school. We would like, if it is possible, to learn some basic computer skills because we have never touched a computer before."
Before I responded, Jean D'Amour added, "We are here to ask you a favor: We are ashamed to see that those little kids, five years younger than us, are more advanced in IT and Dance while we could be their teachers in both fields. We want to get the same opportunity. We don't study IT at school. We would like to have email addresses too, visit websites and communicate with our friends."
Xavier interrupted Jean D'Amour, and said, "In this world, you are nothing without computer skills. When we come to the city during the holidays, we find new technologies and it seems like we are five years behind our generation."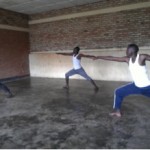 Then I asked them, "So why are you excited to learn dance?" They all responded that, if it is not too late for them, they would like to become professional dancers. They have a dance group at school, and they would like to teach new dance techniques and some choreography to their group members, which would bring new hope to the whole group at school because they will be bringing a new image of performance. They called this in Kinyarwanda "Agashya", which means "the new-thing". After a short moment of silence, I was amazed and deeply touched by the willingness of those kids who walked two hours from Kimisagara until they reached our dance space at Kimihurura just to tell me this. I nodded with my head and said, " Yes, why not? Come again tomorrow and we will set a schedule together."
Eugene Dushime is the Country Director for RDDC Rwanda. He is a former contemporary dancer and assists with the RDDC program in Guinea as well.