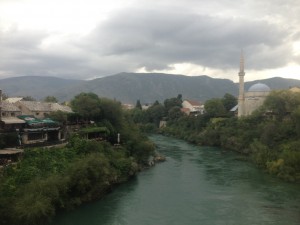 October 12, 2013
Rebecca Davis
This month, I am in Mostar, Bosnia-Herzegovina, training future RDDC teachers in our curriculum.  These teachers are preparing to go into the field to work with our students in Africa and the Balkans.  Part of their training includes a daily English class since our participants come from around the world.
Tonight's English class, however, was a slight deviation from "dance vocabulary" and "conversation practice".  We had film screenings of "Dance Up From the Street" followed by my Rwandan staging of DARFUR.
Little did I know that this would be such an emotional, special night for all of us – especially our three dancers from Ukraine.
I started with a brief introduction to the country of Rwanda.
"What do you know about Rwanda?" I asked.
"It's in Africa."
"Good.  What else?"
"There might be lots of black people there."
"Okay."
And silence.
"Can you name some other countries in Africa?"
"South Africa." (Of course)
"Uganda."
And silence.
Hmmm…I realized we had a ways to go here.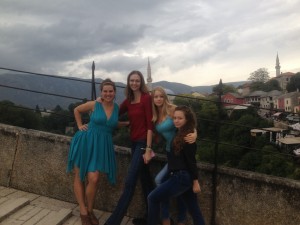 Sanja Elezovic, a RDDC trainer from Bosnia who has traveled with the company to Rwanda, and I gave a brief discussion about the geography and 1994 genocide.  Then, we watched the 30-minute CCTV-produced documentary about RDDC's Rwanda program, "Dance Up From the Street" (http://youtu.be/8QlFivl9dcQ).  The documentary depicts how we use dance as a way to develop cognitive abilities in children and pave a way towards formal education for the most talented street kids in the program.
The Ukrainians sat attentively throughout the film.  I was very curious what their reaction would be – and it was not what I expected: complete shock.
"Well, what did you think about it?  Was it interesting?  Boring?  What do you think about how we use dance as a tool?"
And silence.
"It's okay – you can speak in Russian; you don't have to speak in English."
And silence.
Finally, from Yulia, "Rebecca, this is so much.  It isn't something we can immediately comment on."
Seeing that their faces were still in absolute shock, I decided that this wasn't going to go much further for the moment.  In fact, it wasn't going to go anywhere.
Next, I dug up the video of the 2012 performance of RDDC's DARFUR in Rwanda as part of the East African Nights of Tolerance Festival.  In this 30-minute modern ballet, I assembled three Rwandans and three Americans to interpret the story of one family caught in the genocide in Darfur, Sudan.
I started playing the first 30 seconds and then asked the Ukrainians if they actually wanted to watch it because the film recording of it was so bad.
"Da!"
Okay then.
Everyone sat in absolute silence until about the last 90 seconds of the ballet, and then I could hear some sniffles start…and then more…and then more.  The video ended, and I turned on the lights.  Before me were three crying Ukrainian girls dabbing their eyes with tissue.  They looked at me between their sniffles, just nodding their heads.
"I guess you understood the story?" I asked rhetorically.
"Every moment of it!"
"Is there any commentary you want to give me on it?"
"No.  What we just saw…that is why we want to be dancers."
You know, I spent an hour describing the history of the 1994 Rwandan Genocide to these girls, and it had marginal impact – at the most.  Now, after seeing a 30-minute ballet, they get it.
And that is the power of dance.
Rebecca Davis is the founder and Executive Director of Rebecca Davis Dance Company (RDDC).  She travels to post-conflict and developing countries to implement dance and educational programs for street children and underserved youth on behalf of her organization.  Rebecca holds an Honors Bachelors of Business Administration from Temple University (2004) and a Masters in International Relations and Peacekeeping from American Military University (2011).  She is a two-time Fulbright scholar to Russia (2004-05) and Ukraine (2012).