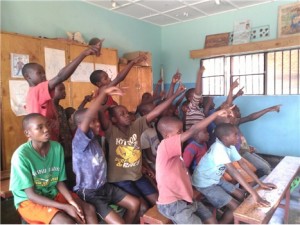 Philadelphia, PA, November 18, 2013…From Camden, New Jersey via Broadway to Africa, this week New Jersey native and dancer LaMar Baylor of Disney's The Lion King begins his role as Cultural Ambassador for the international humanitarian work that RDDC (Rebecca Davis Dance Company) is doing in Rwanda.
For LaMar, it's a return engagement.  He first travelled to Kigali with RDDC in 2011 and his current visit (November 18 to November 25, 2013) will enable him to expand his role, teaching dance and choreography to street children and disadvantaged Rwandan youth impacted by the aftereffects of the Rwandan genocide, and creating awareness in the U.S. about the plight of these children.
"The beauty is the struggle," said LaMar.  "Seeing how Rwandan youth cope and how the country is rebuilding you realize nothing is impossible to deal with and you don't take things for granted.  These kids show up for class every day physically, mentally and spiritually, willing to learn and soak up knowledge."
While in Kigali he will maintain a video blog of his work with the children, and this Thanksgiving, he will kick off an Indiegogo campaign for the LaMar Baylor Scholarship Fund.  Reaching out to his more than 2400 social media followers, he hopes to earn enough money to send several of the best students to boarding school, carrying out one of the goals of RDDC.  A dollar from each of his followers would be enough to fund two students.
He's looking forward to checking in with past participants who he helped develop into dance teachers for the program—Ssali Joseph Eugene and Innocent Nkusi. Before their involvement in RDDC, Ssali and Innocent were both struggling to find a way to effectively channel their love of dance and passion for helping Rwandan's children. Identifying and training new dance teachers is another one of the objectives of LaMar's trip.
"Capacity-building for Rwanda's youth, like the work LaMar is doing to strengthen the skills of our local dance teachers, is one of the most important ways outsiders can assist in rapidly developing this post-genocide country," said RDDC Founder Rebecca Davis.  "RDDC has introduced standardized dance and IT curricula that focus on physical movement and vocational training.  Street children need this type of dual preparation before reintegrating into society, and RDDC employs local teachers to provide this training," added Rebecca.
LaMar grew up in Camden, began dancing at the Creative Arts High School in Camden, NJ and continued his training at Halliday Dance and Dance Sensations at New Jersey. He graduated from University of the Arts in 2008 with a B.F.A. in Jazz Performance.  He has danced with artists including Patti LaBelle, Ben Vereen and Jill Scott, and was a dancer for Philadanco before joining Disney's "The Lion King."
RDDC is a 501(c)3, not-for-profit organization based in the USA.  The company creates dance and educational programs for street children and underserved youth in post-conflict and developing countries.  RDDC currently operates in Rwanda, Guinea and Bosnia-Herzegovina.
To interview LaMar Baylor or Rebecca Davis, contact Sydney Skov at sydskov@gmail.com or 503-309-5267.  Photos and videos are available on request. For more information on the Rebecca Davis Dance Company Program in Rwanda, see http://rebeccadavisdance.com/rwanda/ and rwandayouth.com