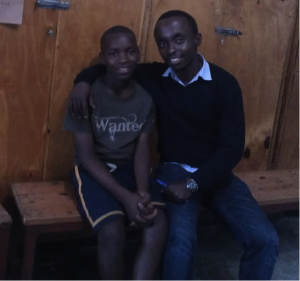 Fulgence Niyongana is one of RDDC's top students in the Dance-IT Program for Street Children in Kigali, Rwanda. The Rwandan RDDC teachers were afraid that Fulgence might end up back on the street, but this child walks one and a half hours from home to attend the RDDC program five days a week. He now lives with his stepmother, who gives him permission to attend our programs.
As I wrote a few months ago, Fulgence was one of the kids who declared to never dance in his life, but he changed when he saw the progress of his colleagues.
Last week, I asked Fulgence what is pushing him to for so long everyday. Here is his response: "I feel so happy because I made the decision not to go back to the streets as long as you are teaching me dance and IT. Dance changed my life; I feel relaxed and free after dance class. I never thought I would touch a computer; now, I can even Skype with people around the world!"
Fulgence added another reason why he cannot go back to the streets: he changed his friends. None of his new friends live on the street. "My friends are those who attend school and dance," said Fulgence.
Once Fulgence leaves home, his stepmother calls me and once he leaves RDDC class, I call his stepmother. Then, when he arrives at home, his stepmother calls me again. This is how Fulgence has become protected against street life.
Eugene Dushime is the Country Director for RDDC Rwanda. He is a former contemporary dancer and assists with the RDDC program in Guinea as well.