Some think that dance is just about having fun. I am not saying that they are wrong, but according to what I have learned in my few years of experience as a contemporary dancer, dance is going beyond the stage of having fun at parties. Dance is an art of self-expression and exchange that helps people communicate. As a matter of fact, RDDC found a way of using this art as a tool for social change and international development in post-conflict countries.
Through dancing, it is very easy to feel good and confident. As some research in psycho-therapy and social science prove, dance can be a way of life – even for a non-professional dancer. When one decides to dance, one starts gaining confidence in personal and professional elements of life.
I may think that physical change goes in parallel with behavioral change. One of RDDC's students, Thierry Ntwari, is an example of this.  I remember seeing Thierry for the first time two years ago. He was a shy kid, both nervous and aggressive.  He used to throw stones at other kids in dance class and at neighboring houses. Thierry told me that he wouldn't and he will never attend RDDC dance class in his life.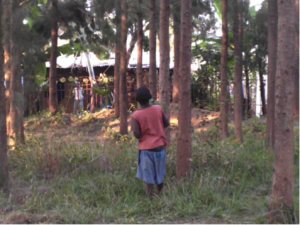 No one remembers when Thierry changed his mind and decided to attend our dance class, but after a few months, his behavior completely changed. The only thing I remember is that Thierry asked RDDC Dance Teacher Ssali to teach him how to mix music on a laptop. Then our dance teachers started showing him how to plug in the sound system and connect it to the laptop. Slowly, Thierry became friends with the entire RDDC team. My team and I think that his interest in sound started his interest in movement.  Randomly, he started joining his colleagues. When he realized that he is actually progressing in dance, he decided to become a regular student.
Thierry does not fight anymore; he is now smiling and motivated. If something happens to him, he raises his hand – just like a "normal" kid.  It doesn't occur to him to throw rocks or tantrums.
Thierry is now one of the best RDDC students.  He hopes for a better future and he actually has some dreams. One of his biggest dream is to become a professional disc jockey (DJ). "I want to become a DJ," Thierry confessed. Thierry also added: "I do things I didn't know I could do before. I feel relaxed and happy like never before."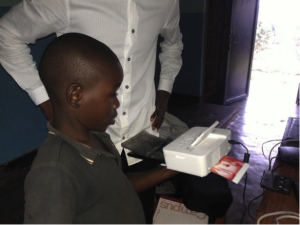 Eugene Dushime is the Country Director for RDDC Rwanda.  He is a former contemporary dancer and assists with the RDDC program in Guinea as well.