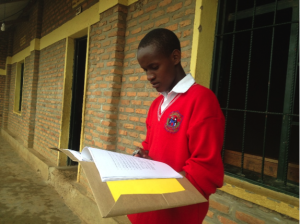 "I told Passy that he can become a famous artist, but not without an education." – Rebecca Davis, RDDC
Pacifique Gakimane, known by his nickname "Passy", was among the first group of street children that Rebecca Davis met when she visited Rwanda for the first time in 2008. Passy was part of a group of hip hop dancers who lived on the streets of Rwanda's capital, Kigali. Passy is one of the former street children whose school studies are now sponsored by RDDC. He is attending one of the best primary boarding schools in Rwanda, Hillside Day & Boarding School, which is situated in Rwanda's Eastern province.
I (Eugene Dushime, RDDC Country Director) first met Passy when he was 10 years old, back in 2009. On stage, the audience was amazed by the dance movements of this talented, little boy. His hip hop group was invited by the USA Embassy in Rwanda to perform and entertain its guests. Everybody was asking if Passy would ever go to school.
Passy is now 15 years old and in the fifth grade of primary school (P5).  I was curious to know how he would mix his school studies and obsession with dance at such a young age. Passy told me that, at the end of every vacation period, he felt uncomfortable because he was afraid that he would lose his talent when focusing on his school studies.  But, Passy is now conscious that school will drive him farther in his dance career – rather than hinder it.  I told him that RDDC will provide more opportunities for him in dance, but only if he continues to succeed in school. Passy smiled at me, nodding his head.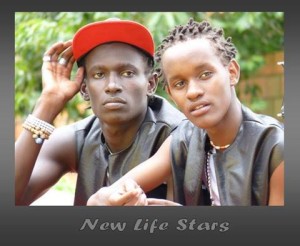 When I visited Passy at Hillside School, I was surprised that every kid I met knows Passy, and they even call him by his family name ("Gakimane").  Then, I asked a few kids why Passy is so popular at school. Here were their responses:
–       "Gakimane is my hip hop teacher. He teaches us hip hop steps during our breaks."
–       "Gakimane is in many video clips of Rwandan singing stars.  I am glad that I am attending the same school as him. I ask him all about my favorite Rwandan stars."
–       Kids who live in the same neighborhood as Hillside School are always looking for Passy during the weekends.  "We need him to teach us Hip Hop."
–       "He helps in all the school's events."
RDDC keeps helping vulnerable kids in post conflict countries to develop their dance talent and attend school so that they may gain hope and have a bright future.  Passy has realized that his dream can only come true when he is also educated – and now he has that chance!
Check out Passy's Hit Single: New Life Star
Eugene Dushime is the Country Director for RDDC Rwanda.  He is a former contemporary dancer and assists with the RDDC program in Guinea as well.