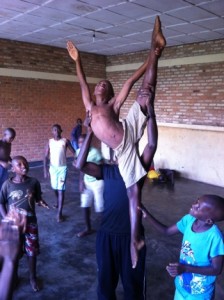 FidesCo Rwanda is a non-profit association that takes care of street children in Kigali by providing a full rehabilitation process, leading to the reunification of children with their families. RDDC is in partnership with this local organization since the end of 2011. RDDC programs (Dance and IT) are integrated among other rehabilitation programs. Kids at FidesCo Centre are attending dance class three days a week and IT class two days a week.  Once the rehabilitation process is completed, which is after just 4 to 6 months, kids are reintegrated into social communities.
Before I became informed that some kids are leaving soon, my team and I were surprised to find some of our top students crying in the corner of our dance space after class. We asked them why they were crying, and the kids gave us different reasons. Mainly, they were wondering when and how they could find such opportunities to learn again.
"I never thought that I could do a complete split in my whole life. It is time for me to go home now, but I wish I could stay much longer so that I could keep dancing and learning," said Samuel Birukundi holding my hand and crying.
Samuel is one of the kids that left FidesCo this month. He was so interested in and enthusiastic during the RDDC programs.  Within a short period of time, he developed a wide range of skills in dance and IT.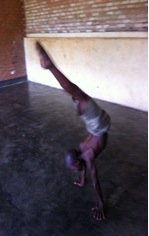 As I have said in previous blogs, some kids are very disturbed when they first attend RDDC programs, but as they keep learning, they become friends and recognize their progress. The changes they feel in their bodies and the execution of movement they thought was impossible makes them feel happy. The whole RDDC team is amazed at Samuel's progress, for example, because he rarely demanded or required our attention; he always put in action the advice that we gave the entire class. He trusted our teachers' advice and strived to do what he originally thought was impossible.
As part of the RDDC standardized dance curriculum, we evaluate each student's progress according to 11 mental skills. At the conclusion of Samuel's time with RDDC, he had achieved the following scores from our teaching team:
Evaluation for Samuel: RDDC Dance Curriculum

We are sad to say "goodbye" to Samuel, but at the same time, we know this young boy is better positioned to reintegrate into his community than he was just a few months ago.
Eugene Dushime is the Country Director for RDDC Rwanda. He is a former contemporary dancer and assists with the RDDC program in Guinea as well.