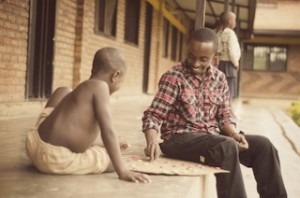 Since 2011, RDDC has been running an annual program called "Train The Trainers" in Rwanda. This past August, the annual program was held again. It was divided into two categories: training RDDC/Rwandan dance teachers in contemporary technique; and training Rwandan staff in fundraising and grant writing.
The goal of Train The Trainers is to improve the results achieved by our local staff through RDDC's different activities that serve vulnerable kids.
This year, the dance training introduced new elements of contemporary dance technique to RDDC teachers in Rwanda. Contemporary will serve as an additional genre of dance for our teachers to use while working with diverse groups of children. In this training, we also examined how the methodology used in dance classes carries over to the IT training, which is also offered by RDDC to street youth. Together, this provides a systematic approach to behavioral change. Special attention was given to the eleven cognitive skills targeted by RDDC and considered essential to re-integrate children into the formal education system.
My team, the street youth and I are deeply grateful to Caitlyn Casson and Grace French for their energy and time invested in this year's Train The Trainers. This was their first trip to Rwanda, and they both did an amazing job!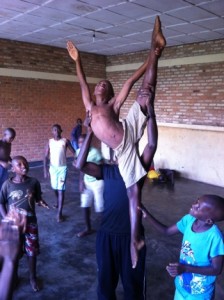 Eugene Dushime is the Country Director for RDDC Rwanda. He is a former contemporary dancer and assists with the RDDC program in Guinea as well.