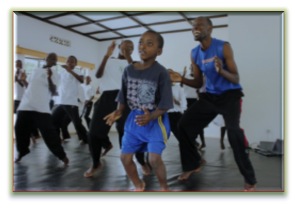 Boys smile and laugh as they chaine turn and pas de chat across the dance floor. This is not a typical dance class in a small dance studio; it is a safe space where street children and vulnerable youth learn social values and are prepared to reintegrate into their community. Why dance and IT training? What do these boys feel that they are gaining from their time spent here? What sort of change are we creating?
Through our dance curriculum, children develop eleven cognitive skills: memorization, commitment, teamwork & collaboration, respect & tolerance, retention & recall of information, physical strength, self-esteem, creativity & self-expression, coordination, language, and concentration. There are a number of ways we could teach these skills, but we believe that dance is a particularly powerful way to help the children master and own these skills because dance is an expressive art form that integrates the mind, body, and spirit. Physically and mentally, the boys are challenged to follow instructions, exercise consistently, and stick to a routine.
These children are not just memorizing a few dance steps, but dance is transforming their whole composition. They learn the timing of the movements, but also learn to think about time in a way they never have before. Many have never thought beyond survival in the moment, but by succeeding in dance, they are given a chance to dream about the future. In dance class they have space to think, trust, share their story, and build relationships with adults who deeply care about them and believe in their success. When students master these skills and teachers witness their progress and behavioral change, students are given the opportunity to attend vocational training classes in IT and English. The inner change that was sparked with the dance classes continues to fuel their passion to learn and improve their lives. RDDC is then equipping them with tangible skills to progress.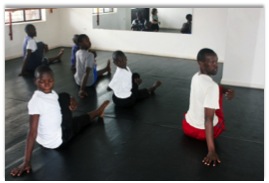 Short example of one student… This model can be understood through Jean Mugisha.  He was living on the streets, but now he is the top in his class at Sunrise Boarding School. We have witnessed change even in those students who have not yet had the opportunity to attend boarding school. Behavioral change. Among fifteen kids who started the dance program since March this year (2014), four children have  exited life on the street and are now attending the RDDC program from home instead of the street. The numbers are small, but the change has been deep and sustainable.  RDDC is planning to increase the number of children served next year. We will keep dancing and creating change by helping youth who experience homelessness but can achieve bright futures.
Eugene Dushime is the Country Director for RDDC Rwanda.  He is a former contemporary dancer and assists with the RDDC program in Guinea as well.