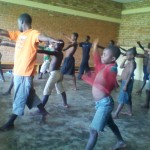 "The most interesting part is seeing a different person emerge out of the person that you used to know; the new person is not the same as the difficult child that began the program."
FIDESCO, RDDC's local partner in Rwanda, temporarily houses street children while attempting to locate extended family members and re-integrate the children into homes.  Usually, FIDESCO takes street children from "transit centers" around Kigali.  Sometimes it takes a long time to trace where exactly their families are located while also trying to understand the reasons why the children left home to live on the streets.
Since RDDC started working with FIDESCO last December, we have not seen many children leaving the Centre all at the same time.  Instead, they had been leaving only one by one. We have two classes that we have been working with at different levels: the first class is about 18 boys, which have been with us for some time; and the second class is about 20 boys of which 12 have been our most serious students over the last three months.